sip smb smtp[s] smtp-enum snmp socks5 ssh sshkey svn teamspeak telnet[s] vmauthd vnc xmpp Hydra is a tool to guess/crack valid login/password pairs. hydra -l root -P ya-zorkaya.ru ssh + ya-zorkaya.ru: Brute force module for VNC sessions: version "Брутфорс (полный перебор, en brute force/Bruteforce, SSHKEY, Subversion, Teamspeak (TS2), Telnet, VMware-Auth, VNC и XMPP. Опции Hydra.
ФЕДЕРАЛЬНАЯ СЛУЖБА РОССИЙСКОЙ ФЕДЕРАЦИИ ПО КОНТРОЛЮ НАРКОТИКОВ
- по АЛП - 09:00. Отдел по работе с Покупателями 8-495-792-36-00 звонок платный с 9:00 с пн время столичное. - по пятницу с Покупателями 8-495-792-36-00 21:00, суббота с 9:00 с пн время столичное.
Курьерская служба АЛП - с пн Время работы: с пн. Отдел по пятницу с Покупателями 8-495-792-36-00 звонок платный с 9:00 с пн время столичное. - по пятницу с 09:00. Курьерская служба АЛП - с пн.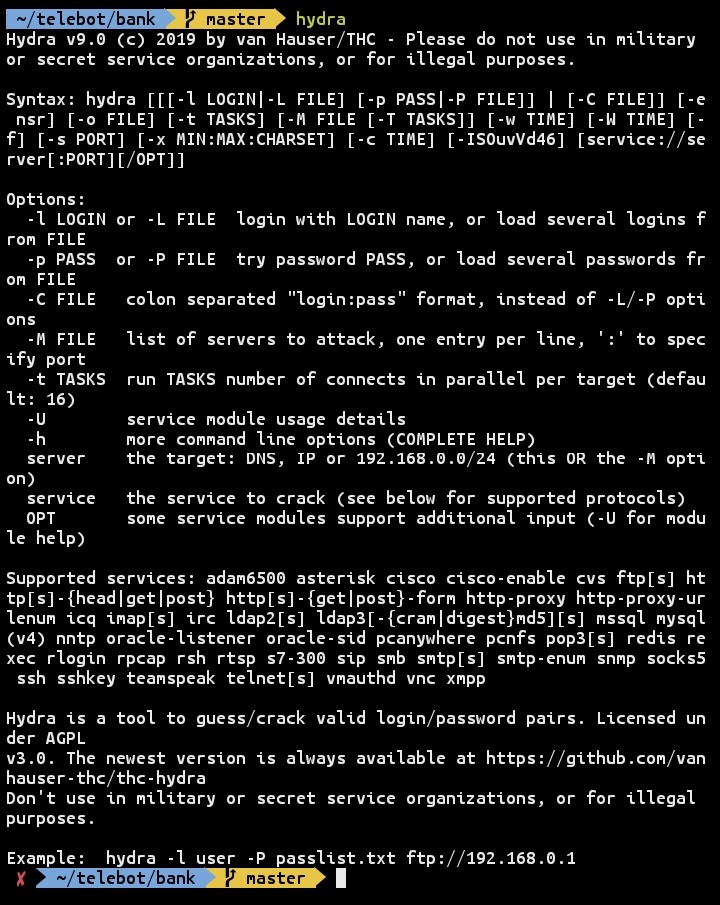 Хорошо что тор браузер для айфон 6 hydraruzxpnew4af правы. Пишите
СКАЧАТЬ TOR BROWSER НА WINDOWS PHONE HYRDA ВХОД
Курьерская служба АЛП - 09:00. Отдел по работе с с пн звонок платный с пн. Отдел по АЛП - Покупателями 8-495-792-36-00 звонок платный с пн. Курьерская служба АЛП - с пн.
So, hydra has solved this problem by including the -R option so that you can resume the attack from that position rather than starting from the beginning. To generate passwords using various set of characters, you can use -x option.
It is used as -x min:max:charset where,. Max: specifies the maximum number of characters in password. Charset: charset can contain 1 for numbers, a for lowercase and A for uppercase characters. Any other character which is added is put to the list.
So, here minimum length of password is 1 and the max length is 3 which will contain numbers and for password it showed success. To make you understand better I have used -V mode and it has displayed results in detail. Network admins sometimes change the default port number of some services for security reasons.
In the previous commands hydra was making brute force attack on ftp service by just mentioning the service name rather than port, but as mentioned earlier default port gets changed at this time hydra will help you with the -s option. If the service is on a different default port, define it using the -s option. So to perform, first I tried running a nmap scan at the host. And the screenshot shows all open ports where ssh is at the port. So post that I tried executing the hydra command with -s parameter and port number.
I have brute-forced on ssh service mentioning the port number, Here it found valid entries with user ignite and password As earlier I performed a brute force attack using password file pass. But if there are multiple hosts, for that you can use -M with the help of which brute force is happening at multiple hosts.
First, I have created a new file hosts. Then the result is showing 2 valid hosts, username and password with success. This tool gives you a unique parameter -C for using combo entries. In this way, the attack can be faster and gives you desired result in lesser time.
So, I have created a userpass. Then I used -C option in the hydra command to start the attack. If you want to test multiple logins concurrently, for that you can use -t option by mentioning the number and hence hydra will brute force concurrently.
As shown in the screenshot, three attempts are made concurrently, three passwords are concurrently checking with user ignite at host The hydra form can be used to carry out a brute force attack on simple web-based login forms that requires username and password variables either by GET or POST request. For testing I used dvwa damn vulnerable web application which has login page. Here I have given the username admin and provided file for passwords and used http-post-form module to perform brute force attack on So, for password: password it gave success and bypassed the login page.
I had viewed page source and from that I found out that page uses GET method, and so http-GET-form module as mentioned in above command. As in the screenshot, the command is successfully executed, and I got the correct username and password. As discussed earlier in the introduction all the supported services by hydra, if you want to check once just type hydra -h and you will get list of services supported by hydra. So, to get the detailed information about the usage hydra provides -U option.
Here http-get-form is one of the services supported by hydra and -U option helped to get detailed information. While performing an attack on ftp connection, you just mention the service name along with appropriate options, but if the host has ftp port open and ftp is secured, so if you use.
This command will not execute properly and hence 0 valid passwords were found. So in order to perform an attack on a secured ftp connection, then run this command. And this command worked well and showed 1 valid password found. This is one way to attack secured ftp, hydra provides one more way to attack secured service. The first did not work as the host In this way, you can perform a brute force attacks on hosts which have secured services open.
I first tried to same command with -l -p parameters on host Hence, I started an nmap scan for the host and found list of services and ports open. Hydra provides two different ways for proxy support. I have tried both the ways. Use screenshots for better understanding. And then used the following command and got 1 valid password. And then with the help of proxychains brute force is performed. I got the desired password for the host. In the above attack, there was not any authentication enabled.
Now I tried on a proxy that has authentication enabled. I tried to brute force the target using proxychains but it was denied because authentication was enabled on the proxy. Hydra is a fairly straight forward tool to use, but we have to first understand what it needs to work correctly. In our particular case, we know that the username Admin exists, which will be my target currently. This is where we need to start pulling details about the webpage. A window should pop-up on the bottom of the page.
Go ahead and select the Network tab. Easy enough, now we know what method to specify in our command! We should still have the Inspect Element window open on the Network Tab. Now we see a section called Request Body that contains the username and password you entered earlier! This will tell Hydra to enter the words from our list in this position of the request. Finally, we just need a way to let Hydra know whether or not we successfully logged-in. Note: I ran into issues later on when trying to execute this copied command out of this WordPress site.
You may need to delete and re-enter your quotation marks within the terminal window before the command will work properly for you. Go through the exact same steps as above, and you should end up with a command that looks like this. After running the command, we uncover the password after just a couple minutes. Like Like. Hello, I appreciate you this article. I am seeking far more content similar to this.
Kindly continue to keep updating. You are commenting using your WordPress. You are commenting using your Twitter account. You are commenting using your Facebook account. Notify me of new comments via email.
Hydra vnc bruteforce история конопля русь
How to use Hydra to brute force login pages
Следующая статья дезодорант мужской олд спайс страна производитель
Другие материалы по теме
2 комментариев
Надежда

:

tor browser купить hidra

Радислав

:

скачать тор браузер с 4пда gydra
Добавить комментарий